2022 kicked off with a nationwide battle cry against monopoly power: On January 3, the voices of farmers and ranchers rang in the new year at President Joe Biden's roundtable on competition in U.S. meat processing. On the heels of that event, Farm Action released research on food system concentration using the highly consolidated fertilizer industry as a case study, and our President Joe Maxwell testified before the U.S. House Judiciary Subcommittee on Antitrust, Commercial and Administrative Law to the on-the-ground impacts of monopoly power. Before the month was over, The Hill published a profile on Farm Action, calling us "an influential force" in the movement to create more competition in our food and farm system.
Now, as the year draws to a close, we're taking a moment to tally each change to the consolidated status quo we achieved with our supporters and allies. Everyday people, not corporations, were the winners of these battles: The formation of an historic Equity Commission will address past and present wrongs, and stronger rules for the Packers and Stockyards Act will protect farmers and ranchers from abusive and anticompetitive corporations.
A more democratized food system is in the making, thanks to more than $1 billion secured to rebuild local and regional food production and distribution, and an investment in domestic fertilizer production will help farmers escape from under the thumb of global cartels.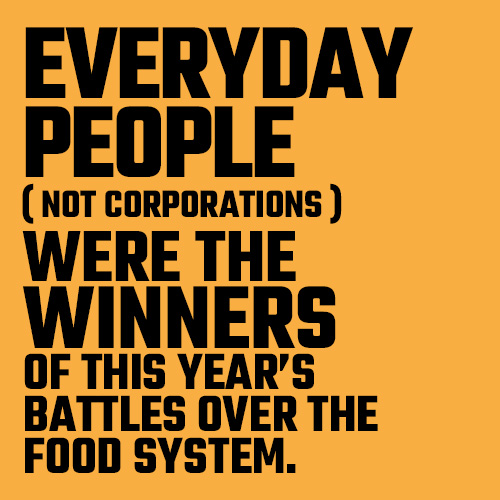 Every part of the Biden-Harris administration has been activated in this fight: The Department of Justice (DOJ) effectively ended a deeply anticompetitive payment scheme for much of the contract poultry industry, and the Federal Trade Commission (FTC) restored its commitment to fully enforcing antitrust laws. The White House acknowledged the interconnected nature of our food policies and our public health crisis by including several of our recommendations in its National Strategy to improve public health outcomes.
We gained so much ground this year in our fight for a fair, inclusive, and competitive food system, and are pleased to be able to share each success with you.
Here's a quick video recapping our year's highlights, and read on for media highlights and a detailed play-by-play of work and wins in each of our issue areas. We look forward to seeing you in 2023!
Our Work and Wins by Campaign
Here's a breakdown of what we did — and the results — in each of our core issue areas. Many of these campaigns are rapidly developing, so stay tuned in 2023 to see what comes next! 
Our work repeatedly captured the attention of reporters across the nation in 2022. Out of more than 450 media stories, here are the top five:
This year, we brought our work to life with more videos than ever. Here are the five videos our supporters liked best.
We researched and published 22 blogs this year. Our flagship Root of the Issue blogs and our quick-take News to Chew on blogs reached thousands of readers, providing them with the information they need to challenge monopoly power in their own communities. 
Written and designed by Dee Laninga; edited by Sarah Carden, Cathy Cowan Becker, Angela Huffman, and Joe Maxwell.