We're dispelling the myths of industrial agriculture.
Industrial agriculture poses no significant risks to public health.
How do Big Ag corporations get away with this? In a word: money. They use well-funded marketing campaigns to downplay the risks, and when this doesn't work, they send fleets of corporate lobbyists to push for policies that allow these obviously-harmful practices to continue.
The Dark Side of Herbicides
When they were first introduced, herbicides were a game-changer for farmers. Suddenly it seemed possible to put expensive hours of labor in weed-choked fields firmly in the past. But some weeds and pests survived these chemicals, reproduced, and grew more resistant, obliging farmers to buy and spray ever more herbicides. Decades later, farmers have spent hundreds of billions on agricultural chemicals — only to have a plague of superweeds with no chemical strong enough to conquer them. 
Roundup's manufacturer (originally Monsanto, now Bayer) spent decades convincing the public that their weed-killing chemical was perfectly safe — in small doses, of course, and as long as you follow the label instructions. Glyphosate, the active ingredient, works by blocking a specific chemical pathway that some plants, fungi, and bacteria need to grow. Humans don't have this pathway, so Monsanto reasoned that humans cannot be hurt by Roundup. 
Here's where it gets sinister. It just so happens that this blocked pathway is how many plants, fungi and bacteria produce the essential amino acids that human bodies need. We can't make our own essential amino acids — we need to consume them. At best, blocking the production of these amino acids in our farm fields makes our food less nutritious. At worst, it impacts human immune systems, which rely on amino acids to function.
Even more damning are the many studies that draw a strong link between glyphosate exposure and Non-Hodgkin's lymphoma (a type of cancer that causes our immune system to malfunction). Other studies suggest exposure to glyphosate correlates with increases in chronic disease, like cancer, Alzheimers, and Parkinsons.
These diseases are especially prevalent in rural areas near farms using chemical inputs, and farmers and fieldworkers are at high risk for autoimmune health complications. But even people living hundreds of miles away from a farm using Roundup can be affected. A government study showed that Roundup was in over 75% of air and water samples in Mississippi — in the rivers, rain, and the air we breathe.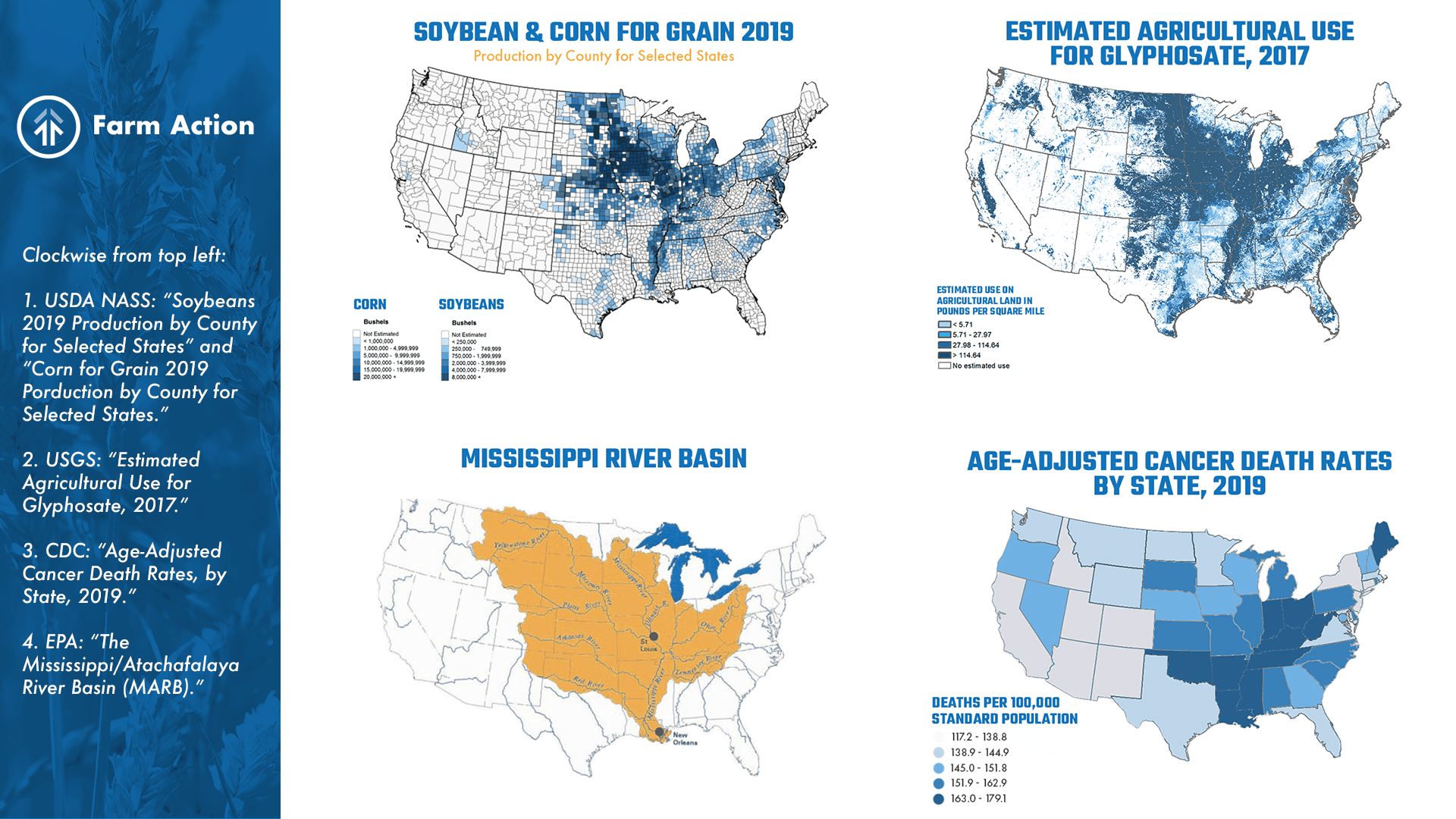 These maps were created using the latest available data from the USDA, USGS, CDC, and EPA. Detailed sources below. For more information about the relationships between these data sets, visit https://zachbushmd.com/.
A few decades of research and billions of dollars in settled lawsuits have built a big enough body of evidence to prove the serious impacts Roundup has on human health. Backed into a legal and financial corner by advocates and affected citizens, Bayer announced earlier this year that they will pull all Roundup sold for residential purposes by 2023.
Still, glyphosate is just one agricultural chemical among many. Industrial agricultural chemicals like Dicambia and 2,4 -D also have been proven to have adverse effects on human health. As long as industrial agricultural companies have money to make, pulling some Roundup sales is simply a bandaid on the bigger issue. 
Calling Out Hidden Costs, Protecting People
This is not some new radical idea, either: Indigenous communities have long known that food is medicine. If we embrace the mindset that good food can heal, and that maintaining soil health is maintaining human health, we'll no longer be forced to pay the social, emotional, and financial costs of a food system that makes us sick.
For our own health and survival, we must build a food system that respects and prioritizes human health over excessive profit.