Farming is full of risks and uncertainties. Between natural disasters, extreme weather, pest infestation, disease, high input costs, or low commodity prices, risks abound that can swiftly tank farming operations. 
That's where the U.S. farm support programs come in. Yet, these insurance programs have insidious effects on the greater food and agriculture system. Crop insurance — which is heavily subsidized by taxpayers — is a major driver of consolidation in our food system.
These insurance programs are structured to encourage monocropping a large number of acres by a single farmer within a region. Over the last two decades, the largest and wealthiest farms have received the lion's share of subsidies — 78 percent of annual commodity payments go to the top 10 percent of recipients (as measured by farm sales), and the top one percent alone receive 27 percent of the payments. This imbalanced payment dispersal exacerbates the plight smaller farms have been facing for decades: They have to get big or get out. As many are forced to abandon farming and the larger operations snatch up farmland, the ripple effects of consolidation have catastrophic impacts across rural communities and the environment.
One way that Farm Action is fighting to reform this abusive system is by calling for a requirement to be added to the 2023 Farm Bill for farmers to meet certain conservation standards in order to participate in federal farm support programs. Now, in a new report, the Government Accountability Office (GAO) is echoing our call by recommending the USDA require producer adoption of conservation practices to claim crop insurance premium subsidies.
Crop Insurance Makes Farming Less Risky — For Some
The government's farm support programs include commodity support programs, disaster assistance programs, and the federal crop insurance program (FCIP). FCIP's subsidized insurance programs offer revenue protection in the case of low market prices or crop failure at a favorable rate for farmers — taxpayers cover about 60 percent of the total insurance premiums, while farmers only pay 40 percent.
FCIP policies primarily cover conventionally grown commodity crops like corn, soybeans, cotton, sugar, and wheat. There are fewer and less accessible insurance options available for specialty crop farmers who produce nutritious fruits, vegetables, and tree nuts. This leaves many of these farmers unable to leverage the same taxpayer support that those growing commodity crops — which are primarily used for livestock feed and unhealthy processed foods — receive year after year.
Farmers have to play the hands they're dealt, so many are driven to grow commodity crops thanks to the accessibility of these lucrative insurance coverage options. As more farmers are driven to farm exclusively for these subsidies, the supply of these select crops increases and drives down market prices. But never fear, because that's precisely what insurance covers: Farmers are guaranteed to get paid most of the expected revenue of those crops even if market prices are low. As a result, heavily-subsidized farmers no longer have to make market-driven decisions to ensure their operations are profitable. When that risk is removed, it drives the consolidation of farmland.

The Hidden Impacts of Crop Insurance
Farmers can make big bucks on insurance payouts when they've got large commodity farming operations. For every dollar farmers pay in premiums, they get back more than $2.20 in claims on average — an annual return of 120 percent. Since there's no limit on these payments or acreage, farmers can enroll unlimited acres, motivating them to convert as much land as they can into row crops. 
Even land that's clearly become ill-suited for farming can be insured and turn a profit, like the farmland around the Mississippi River that faces frequent, predictable floods. Insurance payments to farmers in this area totaled $1.5 billion over the last two decades. Crop insurance enables this otherwise highly risky land to turn a profit year after year, flood after flood.
Large farm operations flush with cash from these programs can then use that money to outbid cash-strapped farmers without access to these programs, or farmers who receive smaller payments because of their smaller operation sizes, on land purchases and rental rates. 
These remaining farmers, while they may do well financially, are still trapped on the Big Ag treadmill, farming exclusively for subsidies. The only way to stay afloat appears to be by squeezing as many bushels out of their soil as possible with the use of synthetic inputs and farming every inch of land they can. It means applying more pesticides, herbicides, and fertilizer, to the detriment of their land and the environment.
These programs incentivize excessive fertilizer use in particular because payouts for many programs can be greater with higher established yield averages. Farmers with access to more acreage are able to manipulate this further by moving their records around so that they can make insurance claims on some fields while using others to establish higher Actual Production History (APH) values.
The result is ultimately fewer, larger consolidated farming operations that degrade the land and hollow out rural communities.
The farms that don't get big must get out: Many farmers move away from the communities where their families thrived for generations — leaving a hollowed-out shell of what these communities once were. As more families leave, the schools, independent shops, and locally-owned agriculture businesses fail as well. The spirit of these rural communities is eroded as large-scale, intensive monocropping operations take over. "It becomes more important to have your neighbor's land than it is to have your neighbor," as Farm Action Local Leader Kevin Fulton explained in his op-ed.
An Unsustainable Insurance System
The increased frequency, duration, and severity of extreme weather is wreaking havoc on our agricultural system, and our crop insurance premium subsidies and disaster relief payments to farmers are skyrocketing as a result. In 2021, premium subsidies climbed to $8.6 billion — up from $7 billion in 2020 — and Congress appropriated a whopping $15 billion in aid to farmers for natural disasters between 2018-2021.
Yet the very operations that contribute most to extreme weather events — giant, monocropped, fence row to fence row farming operations — are the ones raking in the majority of these insurance payments. Meanwhile, producers with diversified farms are left with few insurance options to protect their operations from these damages.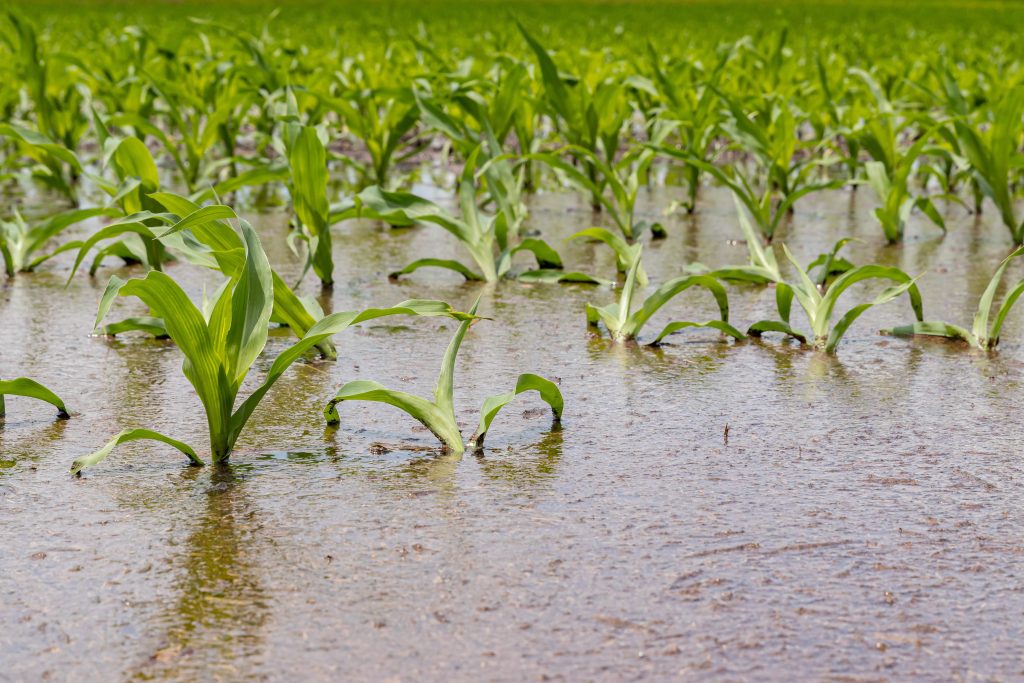 With our agricultural producers on the front lines of extreme weather impacts, we must reform our farm support programs to meet these challenges. The GAO, which provides fact-based, nonpartisan information to Congress about federal spending and performance, released recommendations to the USDA to improve farmers' resiliency to extreme weather.
In their report, they noted the importance of researching the feasibility of incorporating extreme weather resilience into crop insurance rates, which would help set premiums that accurately reflect extreme weather risks. They also recommended requiring producers to adopt conservation practices, such as cover cropping and reduced tillage, in order to claim crop insurance premium subsidies, or offering premium subsidies for extreme weather-resilient operations.
The GAO also recommends requiring producer adoption of conservation practices to maintain Farm Bill Title I program eligibility, such as commodity support programs, to decrease the likelihood that Title I programs will subsidize the kinds of agricultural production that contribute to extreme weather. Many diverse farming operations already implement such practices, and requiring large-scale, intensive monocropping operations to adopt these methods in order to claim premium subsidies would reduce their contribution to extreme weather events.
Farm Action's Vision for Fairer Farm Support Programs
In our Fair Farm Bill Policy Handbook, Farm Action lays out recommendations to create a more competitive and inclusive agricultural system in 2023 and beyond. We need more support for diversified farm operations that contribute to healthy soils, a healthy environment, and healthy communities.
In line with the GAO's recommendation, Farm Action supports requiring farmers to meet certain conservation standards, such as cover cropping, in order to participate in farm support programs. Since these payment programs exist to help protect farmers from the effects of extreme weather, operations should demonstrate that their farming practices are part of the solution, not the problem, in order to collect payments.
We must also expand crop insurance options to support more diversified and regenerative operations that feed their communities, not just those that grow commodities used for corporate livestock feed. About one-third of corn and 70 percent of U.S.-produced soybeans go to animal feed. In 2019, taxpayers spent $2.75 billion on corn and $1.33 billion on soybean commodity payments — meaning taxpayers gave industrial agriculture $1.8 billion toward feed to support their abusive industrialized approach to livestock management.
We also must set common-sense payment limits on farm support programs so that the largest farms aren't receiving the bulk of taxpayer support and perpetuating the cycle of consolidation. For nearly four consecutive decades, the same 20,000 farmers have received farm support program payments at an average of nearly $1 million per recipient per year. Taxpayers shouldn't be endlessly subsidizing the biggest and wealthiest farms.
Farm Action also supports making the Pandemic Cover Crop Program (PCCP) a permanently funded program with increased cost reductions per acre. This program currently offers growers reduced crop insurance rates at $5 for every acre planted in cover crops.
Written and edited by: Jessica Cusworth and Dee Laninga; concept developed by Angela Huffman and Joe Maxwell